Excellent sports facilities at Centrale Nantes
2017 saw a real transformation of the campus sports facilities at Centrale Nantes - starting with the new artifical pitch. Squash courts and a dojo have also been completed.

Built by the Carquefou-based company ART DAN, this new ground raises the sporting standards of Centrale Nantes even higher. The pitch - Eurofield TT 375 mixed grass system (Eurofield ©) on a layer of Brock © F24 flexibility - meets all the requirements of the World Rugby International Federation. The synthetic grass is composed of two distinct fibres (MSD2 Diamond and TSXT) which stabilize the supports and reinforce the grass filling thus providing optimal playing comfort. The flexibility layer, already installed at numerous training centers and clubs (Cardiff, Saracens, ...), offers unrivalled qualities in terms of height of fall (HIC: 1, 9m) and energy restitution, just like a natural grass. The game system installed in the field will allow Centrale Nantes to meet the standards for the World Rugby re-homologation tests.

The aesthetics of the structure have not been neglected. The pitch entry and clearance areas have been designed in Centrale Nantes colours.

Finally, in keeping with its reputation, Centrale Nantes gives pride of place to technological innovation, since site maintenance will be carried out by a new generation Belgian robot: Astrobot. Meeting the standards FFF and IRB standards, it will facilitate the ground's maintenance and thus its playability in the long term.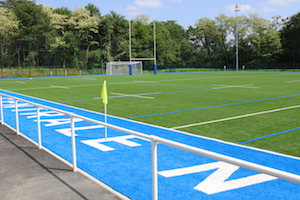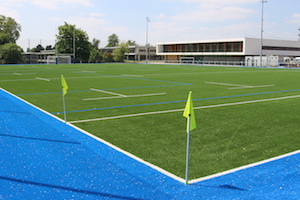 #Culture Semaine Q 2017: Cultural Week Programme

November 27, 2017

-

November 30, 2017

As every year, the Student Arts Association offers students and staff the opportunity to showcase culture for a week of campus events. Discover the programme!

Créa'danse returns for its 13th edition on 14 March!

Créa'Danse is back for its 13th edition. It is an inter-school dance choreography competition in Nantes, an opportunity for Centrale students to attend a unique cultural event and to bring different schools together around the same project. The student troops come from the following schools: Enta, ESIGELEC, Oniris Véto, IMT, INSA Lyon, EFREI and, of course, Centrale Nantes.

Conference: "The role science plays in preparing for the Olympics"

Olympic rowing champion, Jérémie Azou, and his coach, Alexis BESANÇON, will visit the campus to give a lecture on the role science plays in preparing for the Olympics. An unprecedented event - not to be missed - organized as part of the new "Scientific Challenge 2024" specialisation.

Our sailing team are French University Match-Racing Vice-champions

A mixed-year group Centrale Nantes crew travelled across France for the weekend of 16-17 June to compete in the France Match-Racing University championship in Antibes against 7 other crews. A close match and suspense right up to the finish line, for this final student regatta of the year.

Students try out wheelchair handball

The BDS (Student Sports Association), with the support of the Centrale Nantes Sports Association, organized a wheelchair handball outing for about twenty students. Aliette told us all about the experience.
Published on March 27, 2017
Updated on July 30, 2019